Renegade Real-time Job Monitoring
Renegade is making it easier than ever to keep you connected to your Wellsites

 

with our

 

real-time job data

 

monitoring.
The Renegade real-time job data platform keeps you connected to wellsite operations regardless of time or location. From approving shot-sheets to checking maintenance records to implementing last minute changes, you now have the confidence to make both routine and critical decisions 24/7 whether you are at the wellsite, the office or home. 
Renegade can now perform real-time online analysis of job data, pre-job planning and post-job reporting, equipment utilization, maintenance history, revenue tracking and much more. By utilizing powerful asset tracking and scheduling tools, we can deploy crews, equipment and tools where they are need, when they are needed.
Our new platform contains modules including Asset and Cable Management, Sales & Ticketing, Operations and Modeling to help make sure our jobs run efficiently saving you time and expense.
Your data is easily available at all times.
If the internet connection is lost, the system automatically resumes where it left off when the connection is restored. 
Real-time monitoring system sends packets of wellsite data to the server via the internet every 10 seconds, where it is analyzed and displayed in the web browser.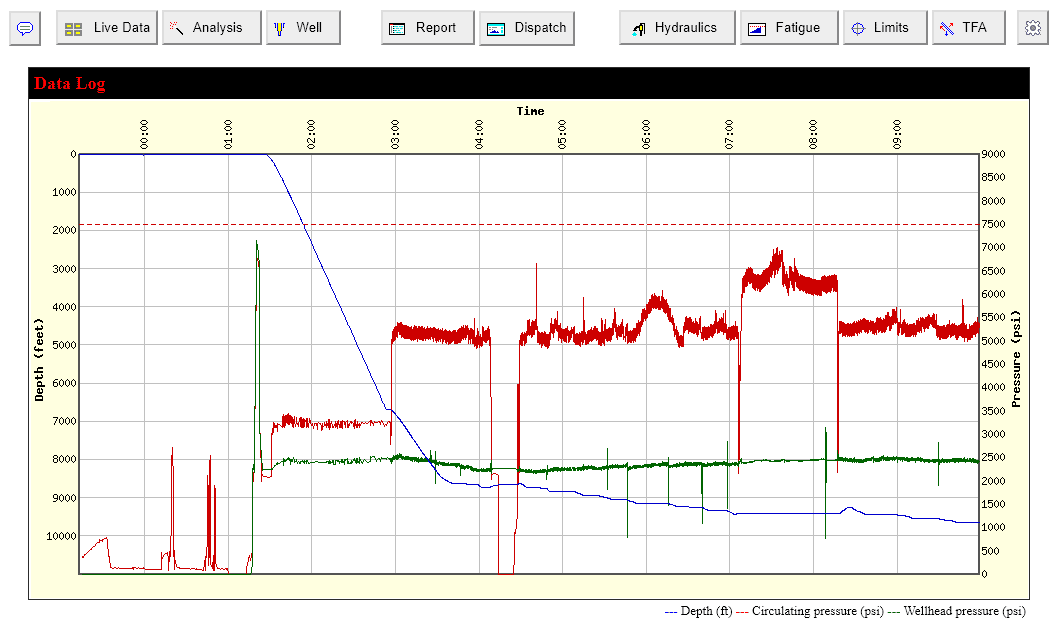 » Livestream of pump-down operation with depth indicated in blue, wellhead pressure in green and pump-down pressure in red.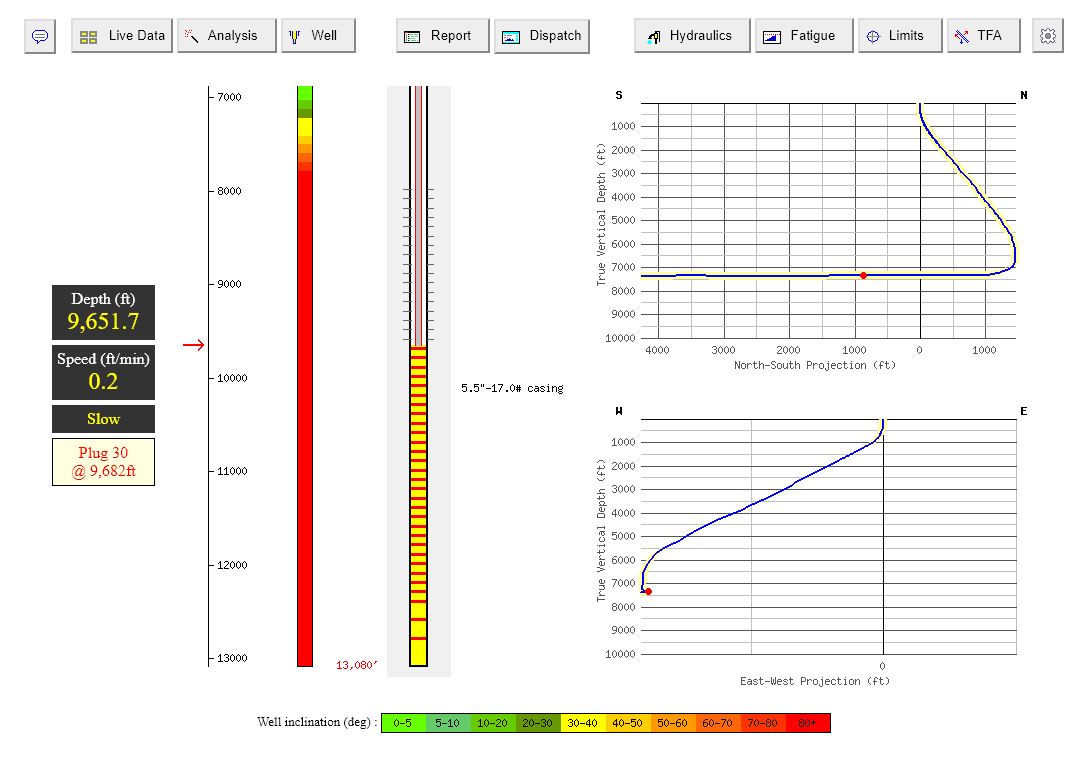 » Wellbore modeling screen showing well inclination at left and wellbore trajectory in North-South and East-West projections on the right.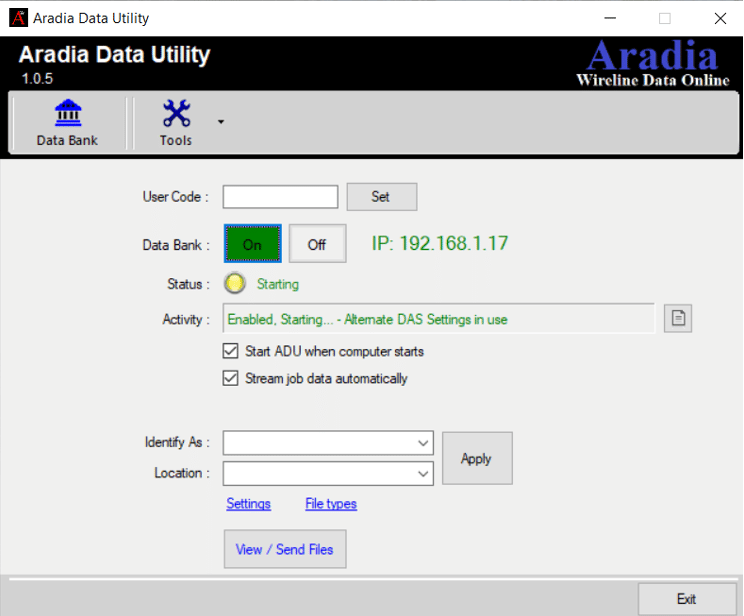 DESIGN JOBS TO MINIMIZE RISK AND IMPROVE EFFICIENCY AND PERFORMANCE.
Pre-job planning of details such as tool sizes, pump-down rates and BHA design will help optimize job design and performance. The pre-job plan can be compared to the actual job to improve and optimize future jobs.   
Perform a complete analysis of minimum pumpdown rates based on the toolstring design.
Check surface conditions on your phone before and during the job.
Web-based modeling reports can be distributed internally and with the customer.
Monitor and update modeling parameters remotely from your office or home. All modeling calculations from the wellsite are available remotely, provided the wellsite has an internet connection.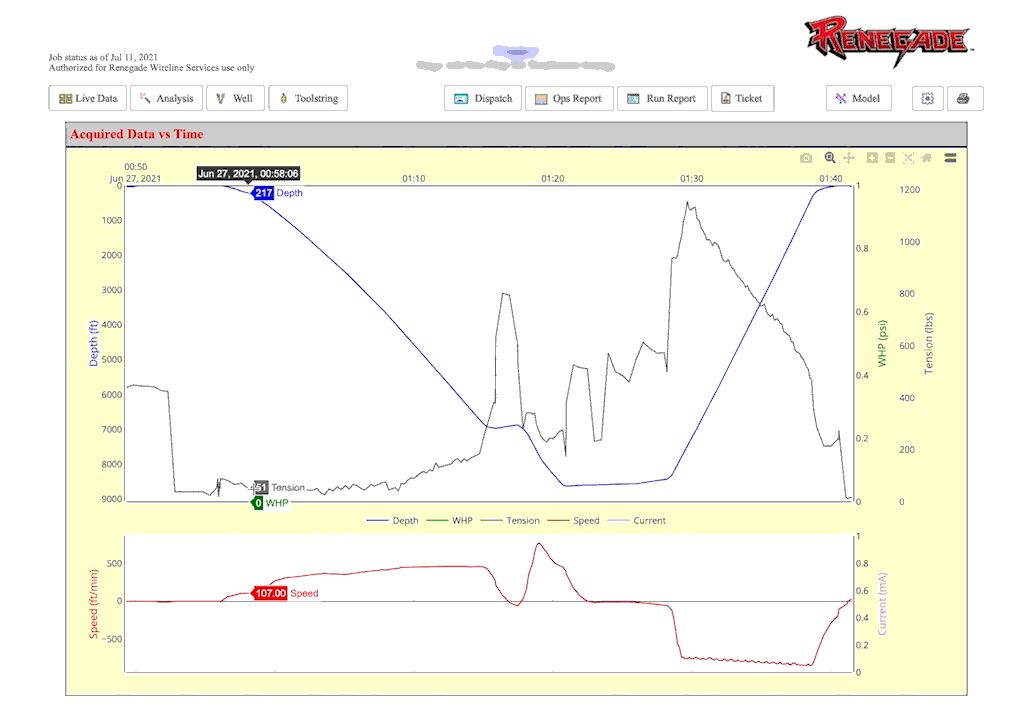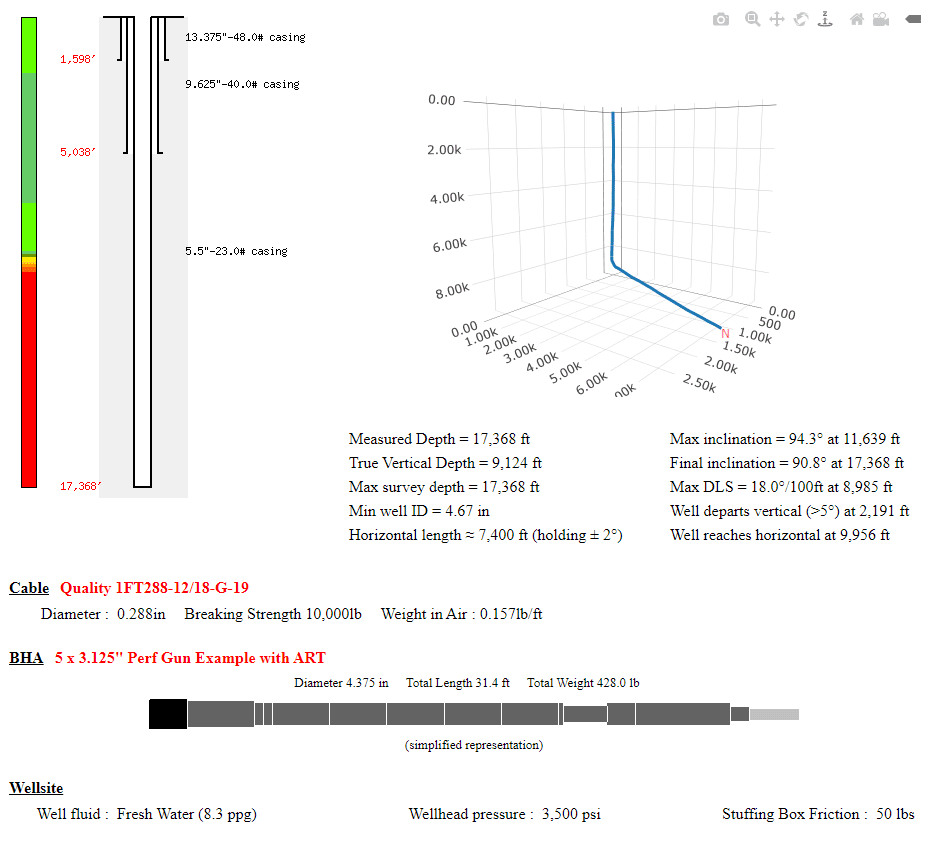 » Modeling of a pumpdown operation with casing profile and inclination at left, wellbore trajectory at right and tool diagram at the bottom.
ALL JOB ACTIVITY IS RECORDED AT THE WELLSITE AS IT HAPPENS. 
The wellsite engineer can now log the job every step of the way from leaving the shop to rig up to running the actual job to rig down. On longer jobs the engineer can track when the crew arrives and departs each day for accurate time reporting. The engineer can choose from a selection of events that change according to the current operation.
Real-time logging of job details support KPIs for time on location, standby time, and travel time.
Track rigging and all associated certifications and expiration dates
Schedule and track jobs online to better utilize crews and equipment. Immediately see which crew is on which job, what equipment is on what location and what equipment is due for maintenance.
Analyze results with metrics such as KPIs, NPT, well models, man-hours and revenue.
Report jobsite incidents for non-safety related incidents such as tool failures, wrong tool or supply delivery, process not followed, etc. A detailed report is generated, including corrective action that is shared throughout the organization.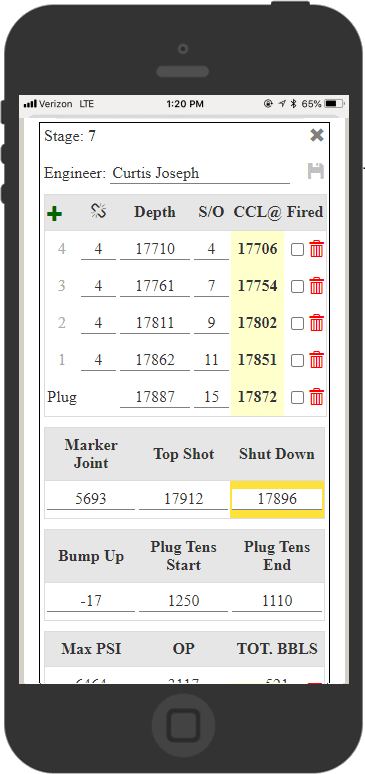 » Live data monitoring of shot sheet.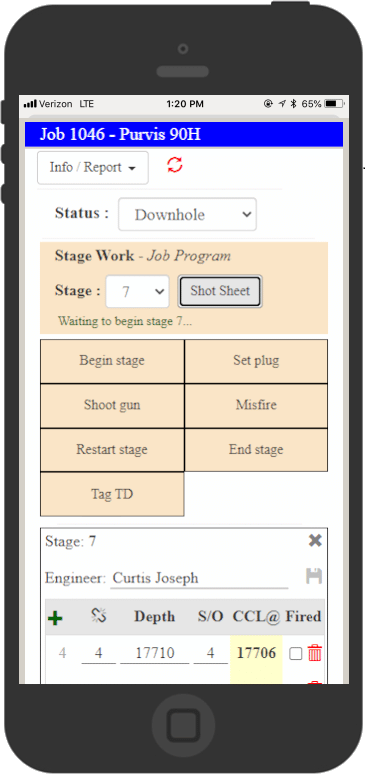 » Live data monitoring showing the setup for perforating a specific stage.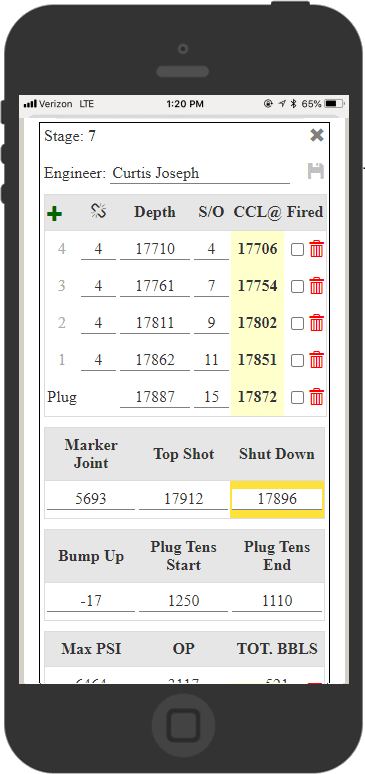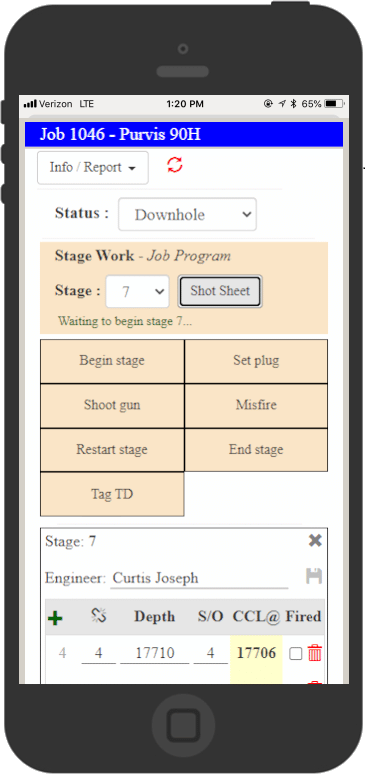 » Live data monitoring of shot sheet and live data monitoring showing the setup for perforating a specific stage.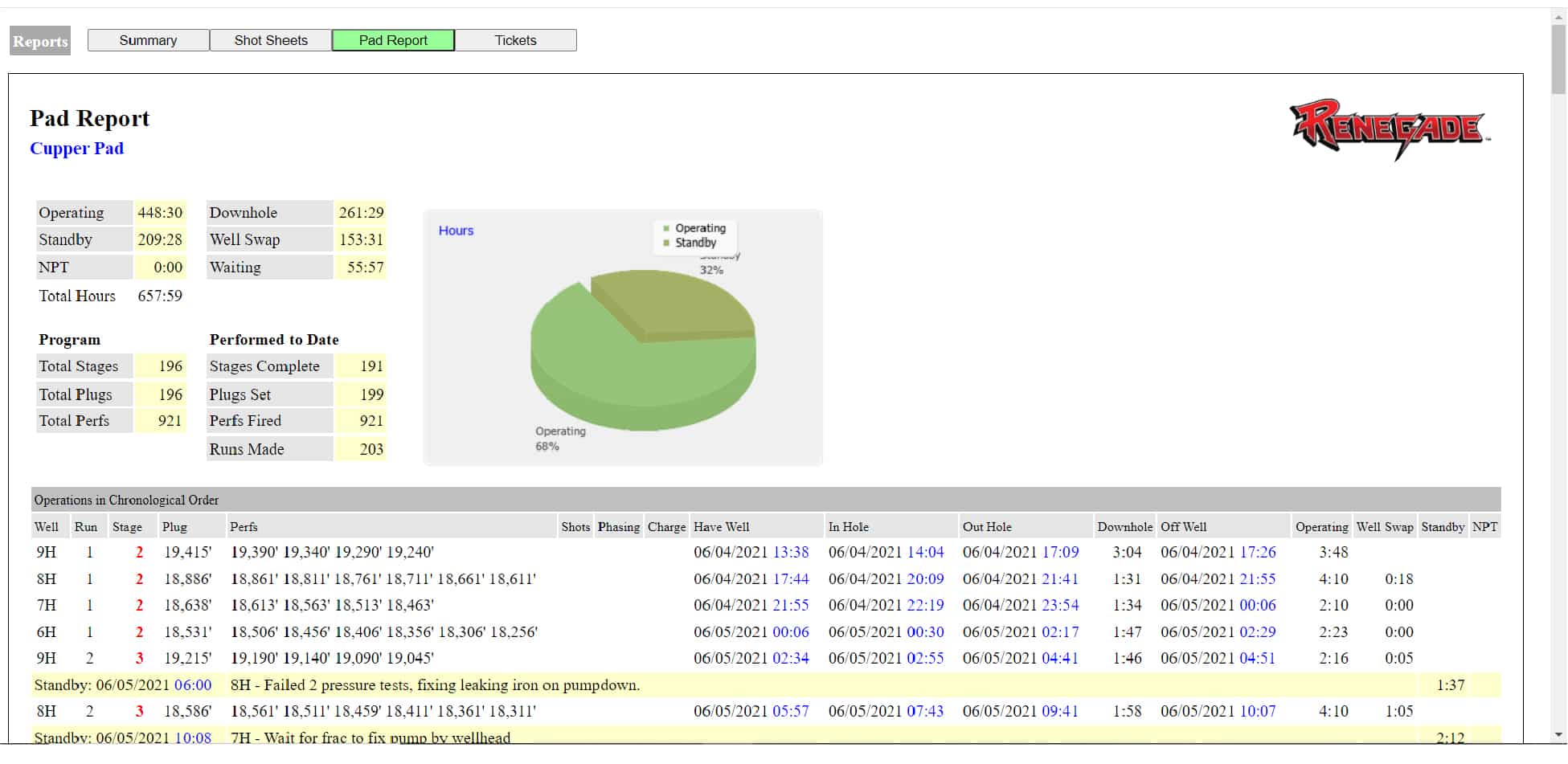 » Example of post job report showing job information and time. Mouse over image to magnify details.
Post Job Reporting
Post-job analysis allows both Renegade and the customer to see a breakdown of time for different well site activities. This presents invaluable information to see which activities take up the most time, compare actual to planned job time and help schedule for future jobs. These include:
Operating time

Downhole time

Standby time

NPT

Well swap time

Waiting time
All the runs are calculated and presented in the pad report with the depths of plugs and perforations. Shot sheets are tallied and easily accessible for Renegade and customers.
Minimize risk and improve efficiency and performance in longer horizontals. 
Equipment Maintenance: Track and utilize equipment maintenance, including trucks, cranes and tools for robust maintenance records. This can be done remotely at the wellsite or the yard. 
Dispatch & Job Scheduling:  Utilizing powerful asset tracking and scheduling tools, units can be deployed where and when they are needed. When monitoring a job, we can view position, status and modeling. 
Asset Management: Track the utilization and maintenance of equipment, including trucks, cranes, BOPs, iron, tools and instrumentation. Add photos, reports and specifications to augment records and demonstrate compliance with operator protocols. 
Cable Management: Accurate cable records are critical to the safety and success of the operation. Maintaining these records can consume time and effort. This new system helps us:

Manage current cable inventory at a base, on location, or at the storage facility. 
Keep track of cuts, current length, and total runs. 
Assign a cable to a truck, and associate all jobs for that truck to the specific cable. 

Streamline Reporting: Once the job is complete, a final report can be printed for the customer. Operations Reports can be viewed on the mobile app which does not require an internet connection or on the bowser which requires an internet connection.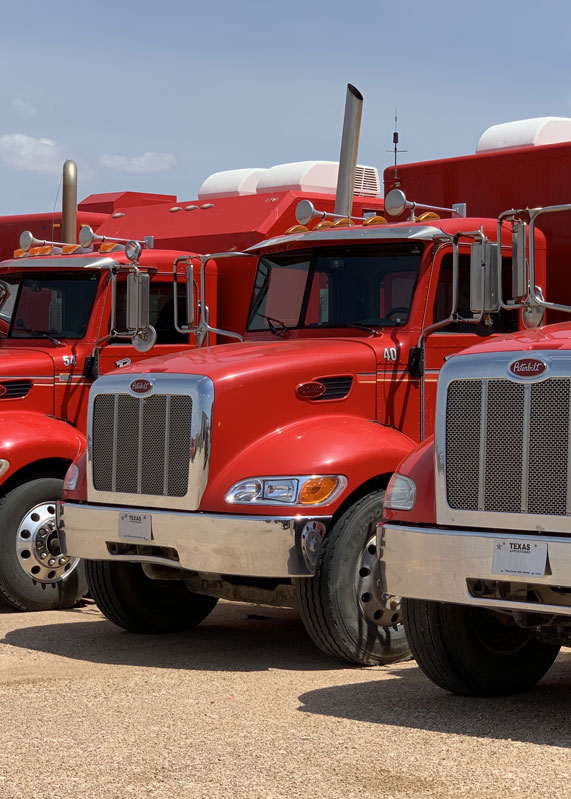 renegade real-time job monitoring
Renegade Services is making it easier than ever to keep you connected to the pad with our real-time job data monitoring.
Case Study:
Pennsylvania DEP grantS permission for operator to P&A well After Expansion Service
»
Decrease in both pressure and gas rate to zero show the effectiveness of Local Expander technology and allowed the operator to P&A the well.
CONDITION:
This Pennsylvania well was scheduled for plug and abandonment, however, gas flow in the annulus prevented the operator from starting the process. All gas migration and pressure had to be eliminated before the Pennsylvania Department of Environment Protection (DEP) would let P&A operations commence. Previous attempts at stopping the gas flow with traditional squeeze cement jobs proved unsuccessful. 
PROBLEM IDENTIFICATION:
The operator contacted Renegade Services. After reviewing well problems, Renegade recommended its Local Expander technology, which expands the casing into the cement and blocks the path of any unwanted gas flow.  
SOLUTION & RESULTS:
Utilizing Local Expander technology, Renegade created two sets of three expansions. The first set of expansions was performed at depths of 3369, 3370 and 3371 ft while the second set was at 2069, 2070 and 2071 ft, successfully sealing the annulus. The gas rate dropped from 1.5 mscf/day to zero flow after five days while the pressure rate decreased from 105 psi to zero psi after 14 days. Upon reviewing these successful results, the Pennsylvania DEP granted permission for the operator to P&A the well. 

Local Expander™
Let's start the conversation about how Renegade and the Local Expander can work for you.
Case Study:
Decrease in backside pressure allows operator to return seven wells to production
Candidate selection is a critical factor in obtaining effective and consistent Local Expander results. Factors such as expansion depth, the number of expansions and cement quality all will affect the success of the Local Expander service on individual wells. 
CONDITION:
This operator in Pennsylvania had an issue with backside pressure on several wells. The pressure was causing gas to flow up the annulus between the casing and cement. The gas flow exceeded limits set by the state for maximum gas flow. The operator had to stop production on the wells until the problem was addressed.  
PROBLEM IDENTIFICATION:
Renegade Services was called in to evaluate the wells and recommended the Local Expander™ tool to shut off the gas flow. Local Expander unique technology expands the casing into the cement, densifying the cement and stopping upward gas flow. The wells were at two locations, with one pad containing five wells and the second pad containing two wells. Pre-job well pressure ranged from 130 psi to 680 psi on the seven wells.  
SOLUTION & RESULTS:
The Local Expander provided a successful remedy decreasing the unwanted gas flow. Renegade performed 12 expansions (four sets of three expansions) on each well. Upon reviewing the successful results, the Pennsylvania Department of Environment Protection (DEP) granted permission for the operator to return the well to production. With the success of these wells, the operator engaged Renegade and the Local Expander on ten more wells.
Local Expander™
Let's start the conversation about how Renegade and the Local Expander can work for you.