Setting the Standard for Complete Wireline Services
To remain the the largest independent provider of cased-hole electric wireline services in the North American Oil and Gas Industry. Our drive doesn't stop there. We aim to be the largest provider of radioactive tagging services within five years as well.
To offer professional, experienced personnel with a cased-hole and radioactive tagging focus working in an efficient and safe manner to produce operational excellence and customer satisfaction.
To focus on being the premier horizontal cased-hole completions service provider to the oil and gas industry.
Renegade has always maintained financial strength, charged a fair value for services, and delivered high-quality customer service. We have successfully become the largest independent wireline company in the United States.
To maintain an excellent place to work, a professional environment that is safe, challenging, rewarding, creative, and respectful of ideas and individuals.
To embody an entrepreneurial spirit.
To treat employees fairly and with respect, honor and dignity.
To view our employees as part of a team and a family.
To provide excellent value to its customers and a fair reward to its investors and employees.
To treat our suppliers fairly.
To be guided by an entrepreneurial spirit.
To be responsive to our customers needs.
To be "easy to do business with!"
To be a quality cased-hole and radioactive tagging alternative service organization the US Oil and Gas Industry.
Noteworthy Accomplishments
We have been the largest independently-owned cased-hole wireline contractor in the US after only 10 years in operation.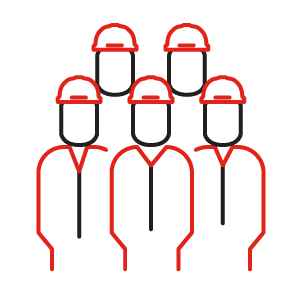 WIRELINE PEOPLE
All 5 owners are wireline industry pioneers that started from the bottom.
SMALL BUSINESS
We are a large company, and we can react to the needs of the market like a small business.
We are debt free! Every dollar that we have made has been re-invested into the company.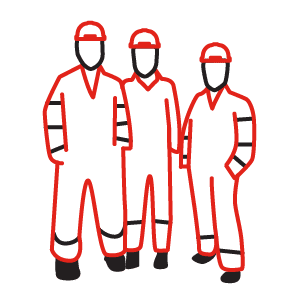 Employee Owned
We are an employee-owned business. Renegade was built so that we would have a great place to work and be able to give back to the employee.
WORK WITH US
Renegade has always been on the forefront of new technology by spearheading the implementation of systems such as RigLock®, greaseless wireline, HAG, logging, tagging tools, and release tools. Having the adaptability to deliver some of the most innovative products and efficient industry practices has allowed us to successfully operate with top producers in the United States.
WORK FOR US
Whether it's family cookouts, clay shoots, or giving back to the community, it's all done together; making Renegade a company that people want to work for.
Charity
Our team frequently volunteers in their own communities. Some of our charitable giving includes community services such as the "adopt-a-highway" program, sponsorships of local youth sports and events, participating in STEM events with area schools, school fundraisers, and scholarships.
Across all 12 locations, Renegade gave more than $50,000 in 2017 to charitable causes and non-profit organizations.
VP of operations, Randy Cassady sent out a company-wide notice that Renegade's Refugio district had been leveled by Hurricane Harvey leaving Renegade employees with little to nothing to go home to. Renegade employees banded together to raise over $10,000 for Refugio team members. Renegade Services then matched that donated amount sending over $20,000 to Refugio employees for recovery.
RWLS employees raised $10,000 to support team members affected by Hurricane Harvey from our Refugio location. Renegade executives matched their donations totaling $20,000 in funds raised.
Contact Us to Get your Project Started
Renegade Services:
"To Be the Best"
Renegade Services is an oilfield wireline service company servicing the oil and gas industry in the United States.
With service locations in most major US hydrocarbon basins, we are ready to provide a wide variety of quality wireline services for your completions and pipe recovery needs.
Renegade Services has a proven track record of safe operations servicing both small and large companies perforating, mechanical services, radioactive tracing and isotope identification, cased-hole logging, and pipe recovery services nationwide.
Renegade is on the cutting edge of the industry providing the highest quality Casing Inspection logging services and Spectral Well Analysis, along with only the highest quality Perforating tools in the industry.
Operations are managed locally and are concentrated in major United States onshore oil and gas producing regions in Oklahoma, New Mexico, Texas, Louisiana, and Pennsylvania.
Renegade prides itself on the quality of its employees and the quality of its service. Our single-minded goal is "to be the best!"