» Integrated crane and wireline services on a zipper pad in the Permian Basin.
INTEGRATING CRANE SERVICES WITH WIRELINE OPERATIONS PROVIDE EFFICIENCY AND COST-SAVINGS TO THE OPERATOR
CRANE SERVICES

 FROM RENEGADE

 ENHANCE WIRELINE OPERATIONS

 

 
Successful wireline operations depend on many variables, but foremost is a well-trained and organized crew and the right equipment. Moving and lifting equipment while rigging up and rigging down is a critical part of wellsite operations and one of the most demanding. Bringing in a third-party operator to handle this operation can lead to miscommunication, mistakes and even possible injury. Plus, the added burden of paperwork and project managing the vendor can quickly add costs to the operation. 
Renegade Wireline Services provide a full range of cranes for wellsite support. Along with this comes the knowledge, experience and safety methods that only thoroughly trained personnel can provide.  
| | | |
| --- | --- | --- |
| Permian Basin | 30-55 TON |   |
| Northeast | 50-110 TON |   |
| Gulf | 40-50 TON |   |
| Rockies | 30-50 TON |   |
Renegade crane equipment and personnel directly support wireline operations by suspending the lubricator assembly and BHA over the well. The operator is responsible for rigging up the frac iron before the job starts and again when it is finished. This equipment is also used to hoist or move heavy equipment, as well as picking up gear such as coil tubing injector heads. Larger well pads require cranes with a longer reach, so larger capacity cranes are used in these circumstances.  
While the lifting capacity of cranes can vary, the correct size is selected based on how heavy the equipment is and how far away it must be handled. Most cranes operated by Renegade have 50-ton and 110-ton capacity and a variety of operating ranges.    
Bringing in a third-party crew can be both expensive and less efficient. Crew members who work together daily can anticipate challenges that arise during completion operations and remedy them with the best solution. The primary advantage of Renegade Services providing wellsite crane operations is one integrated team at the wellsite familiar with and sharing common best practices, lessons learned, and safety procedures.
Why risk your operation to anyone else?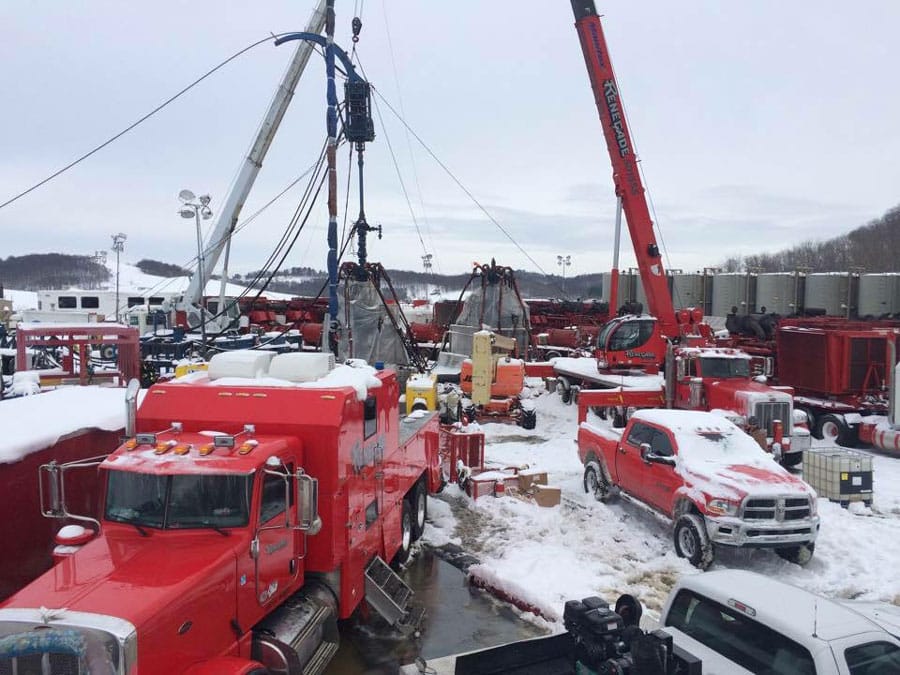 » 110 ton crane operating on a coil-tubing project in the Northeast US.
 Ask your sales rep to ADD crane services to your wireline package today
Call us today for a personalized service estimate.