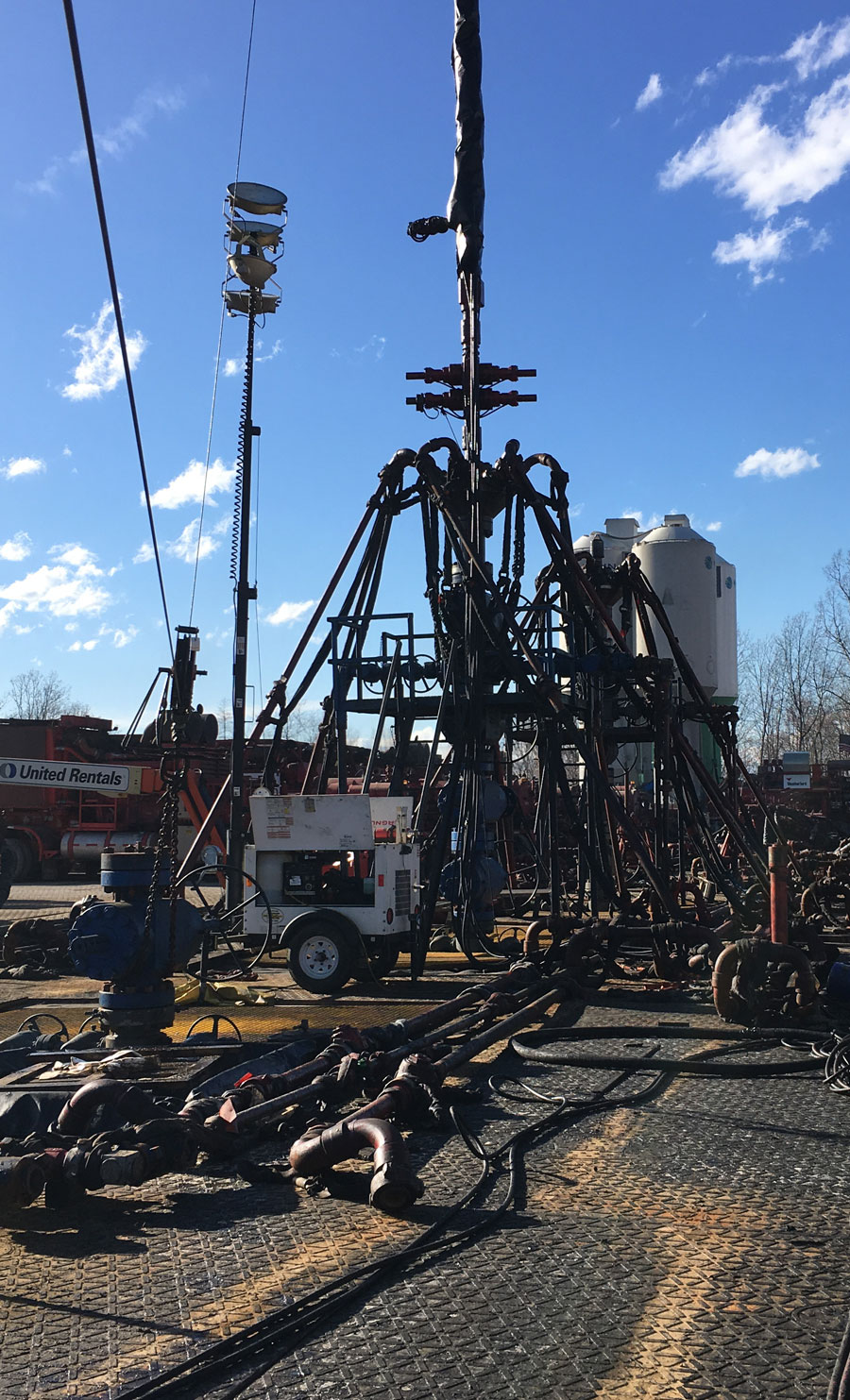 MINIMIZE RISK AND MAXIMIZE EFFICIENCY WITH RENEGADE PRESSURE CONTROL EQUIPMENT (PCE).
Pressure plays a crucial role in completing a well. You need the right equipment to make the entire system succeed, from lubricator assembly to the grease head. Pumping large volumes of fluid at high pressure always possesses the risk for loss of well control. Having properly maintained equipment run by competent operators is Renegade Services recipe for success.
Oil well blowouts are easily the most catastrophic incident that can occur on a rig site. A blowout causes significant damage to the environment, creates a loss of resources, and significantly increases the risk of injury or even death to rig workers. Blowouts also cause lost production time and a major negative financial impact. Therefore, proper control of the amount of pressure within the system is more than just an excellent idea; it's an essential part of managing potential hazards.
Proper control measures maintain safe working conditions on location. The tool string is placed inside of the lubricator and is then attached to the well. When secured, and the proper seal is verified, the valve leading into the well is opened. Thus allowing thousands of pounds of pressure to enter the lubricator. When done correctly, it will enable the pressure to move into the lubricator and around the tool string without releasing it into the atmosphere.
Most companies hire third-party operators to manage this process. The more outside contractors that have to be brought in, the less efficient the process becomes and the more risk the company faces. Renegade Services provides its own highly trained staff to run PCE on its completions projects. This offers significant peace of mind that you're both reducing risk and protecting valuable resources.
Renegade uses the RigLock® system in completion projects to attach and detach the nightcap and wireline lubricator remotely to maintain exceptional safety practices on the frac pad. Since there's no technician needed in the red zone when using RigLock®, frac operations can continue interruption free speeding well completion time resulting in increased well profits. Using the RigLock® revolutionary technology for wireline operations resulted in record-breaking frac pad production and significantly decreases workers' safety risk.
Renegade also provides PCE recertification service through our iron recertification district. Services that we provide to our customers include visual thickness, hydrostatic and magnetic particle testing. We complete annual inspections of the equipment that we use on location. Up to date records and proof of certification are essential requirements that must be met to comply with most of our customer's expectations.
Renegade understands that every well is different and chooses the best equipment for functionality and safety, which prevents dangerous and costly loss of well control. Renegade manages it all for you, from crane rigging to running guns and handling PCE. No third parties needed and all our equipment is made in the USA.