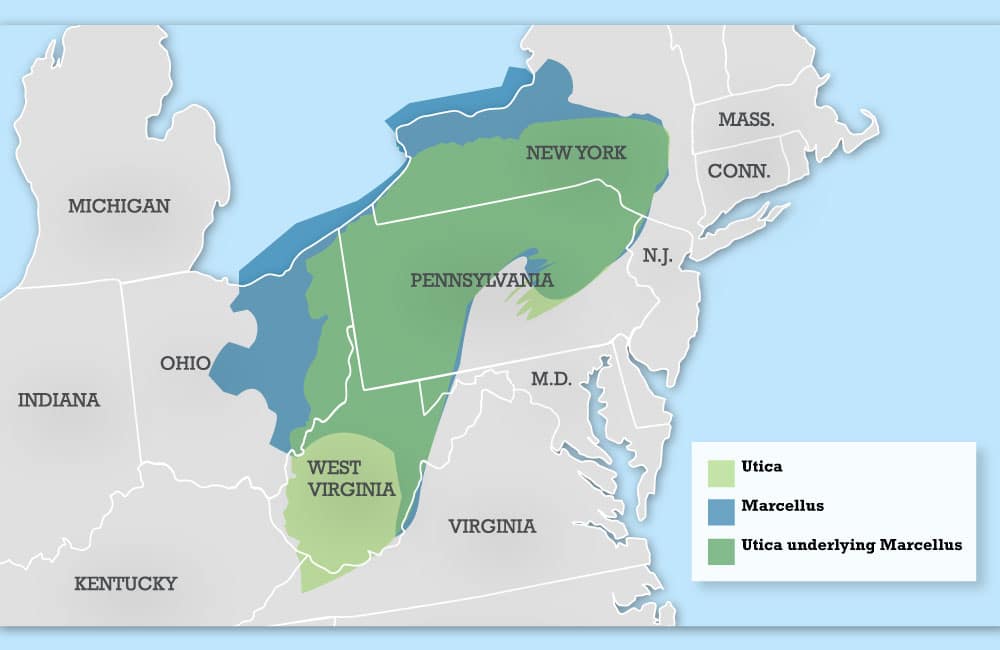 This week the United States Geological Survey (USGS) released a geology-based study stating that the Appalachian Basin holds an estimated 214 Tcf of undiscovered, technically recoverable reserves. This span includes the Marcellus, Point Pleasant, and Utica formations from Ohio, Pennsylvania, West Virginia, Virginia, New York, Maryland, Kentucky, and New York
1
.
The report is up from the last 2011-12 estimates where the bulk of the increase in reserves comes from the Utica-Point Pleasant numbers being up over 300%.
In 2018, Pennsylvania alone produced 6.1 Tcf of gas2 and is the second-largest domestic producer of gas behind Texas. Production has grown year over year despite suppressed gas prices over the last decade.
Regardless of how feasible the macro reserve estimates at any given timeline of projected depletion, it is safe to say that at current levels of production there will be steady work for years to come. The trend of well sites in Appalachia pad sizing to maximize well counts while minimizing its footprint definitively pushes the density of productivity in the region. It is our estimation that this density will be the driving force behind operators adopting technology that fosters efficiency and automating repetitive tasks.
Looking beyond siloed segments of the upstream industry, we at Renegade take a lot of pride in spearheading product development in the oilfield. Multi-functional engineered equipment is future of consolidating operations and introducing automation best practices to an industry that has been overlooked for years in this regard. With this in mind, we look at the production system with a holistic viewpoint. In addition to our suite of upstream products and services, we are excited about the growth of our production services. Our newest product, CET, is set to be a household name in well intervention later in the well life as well as after abandonment. With the record gas production in the northeast, as well as other basins in the country or continent for that matter, we see our Casing Expansion Tool as the leading intervention tool to provide the most immediate results for the lowest cost.
We have a lot to be excited about here at Renegade.
The United States has proven itself in the to be a sustained production leader through innovative thinking and hard work. In order to prevent a plateau because of a stall in technology adoption that either becomes cumulatively too expensive or doesn't drive the industry forward, we believe that giving time for newer technology that has directly measurable results to blossom. We are excited to see what 2020 brings and look forward to working with anyone committed to taking automated development from a discussion to a line item in an AFE that is relied on well after well.
DISCLAIMER: Renegade Services remains a neutral-party to all of other companies referenced in any blog post listed on our website. The opinions in any blog post do not necessarily reflect the views, opinions, or position of Renegade Services at any point beyond our current time of publishing.
For more information, call us now on 281-603-9720 or use the form below:
Contact form submission from fraclock.com