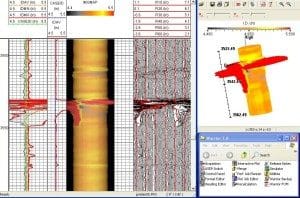 »

 Sample Casing Inspection Log.
CASING INSPECTIONS
This page is dedicated to our Casing Inspection logging services. To see information about our combination casing inspection and radial cement bond log (Wellbore Integrity Presentation (WIP) Survey) Click Here.
A casing inspection log is a record of casing thickness and integrity. This log is used to determine whether or not the casing has undergone damage.
The casing inspection log identifies and quantifies corrosion damage. It identifies scale, wax, solids accumulation, and location of mechanical damage.
The multi-arm caliper (MAC) 60 is a state of the art, sophisticated logging tool that performs an accurate inspection of the casing interior. It is an integrated logging system enabling downhole data acquisition, high-speed data transmission to the surface, data processing, and vivid imaging of the inspected casing.
The data provided by the tool provides you with the knowledge necessary to plan cost-effective work-over and remedial operations.
This tool is designed with a small outside diameter with a large working range of measurement. The tool is capable of logging all weights of 4 1/2 inch through 10 3/4 inch casings. Each of the 60 arms sends an individual measurement to the surface. The actuation of each arm is converted to an electrical signal and transmitted above ground in a data frame consisting of a frame identifier, 60 arm channels, an electronics temperature data, and a checksum. The data is transmitted at a rate of 13 times per second. The surface equipment decodes the data frame and stores the data to disk.
The operator has the option of presenting the data in log form with various imaging presentations ranging from a cross-section of the casing to a 3-D type color enhanced visualization.