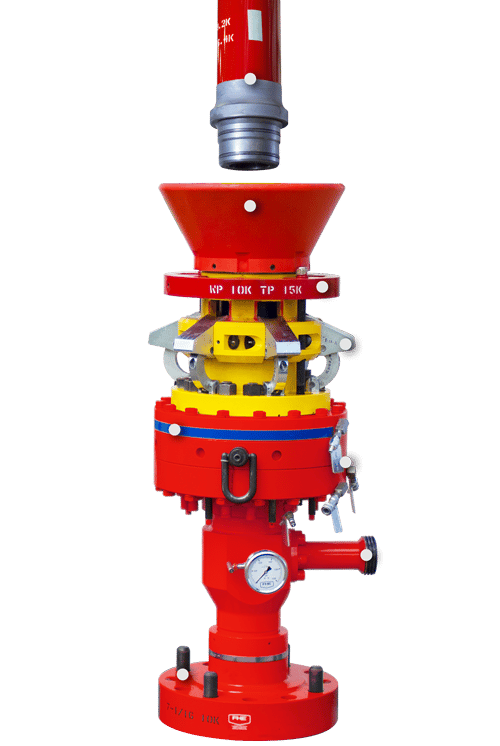 Nightcap
Contains pressure and keeps foreign material out of the frac tree between stages.
Oversized highly visible entry guide.
This allows the crane operator to quickly spot the sub going into RigLock® from distances of over hundred feet, ensuring proper equipment placement. RigLock® speeds up all well work with quickly connecting and disconnecting.
Mechanical Locking Ring secures the cams.
The locking ring goes over top the cams giving us a secondary lock and thus ensuring the integrity of the connection even during possible loss of hydraulic power.
Cam locks secures equipment connection.
The patented design uses a series of 6 cams to both seat the sub, secure a good connection, and to allow the locking ring to come over the top of it, thus sealing RigLock® to the wellhead.
Manifold to test integrity of connection.
The quick test sub portion of the RigLock® body enables you to test the connection from the control unit on the ground before well pressure is introduced to RigLock®.
Accessible Hydraulic Hook-ups.
Hydraulic quickly connects to RigLock® so that we can quickly make the connections to function the cams the locking rings and the quick test sub. Remote hydraulic actuation keeps technicians away from possible collision or crushing injuries.
Integrated 2 inch 1502 pump-in sub.
This allows for equalization and to pump into the lubricator from below RigLock®.
Flange connection to the wellhead.
These flanges come in different orientations and sizes so that you can easily install RigLock® on any well head.