RADIAL CUTTING TORCH
MCR Oil Tool's radial cutting torch (RCT) is a patented cutting device used to sever tubing, casing, drill pipe, and coiled tubing without the use of explosives or hazardous materials, making it one of the safest pipe cutting tools on the market. Using advanced technology, the patented nozzle and proprietary mixture of various powdered metals produces jets of highly energized plasma to cut virtually any type of pipe in any well condition. Because the RCT does not use explosives or hazardous chemicals, the tool can be shipped almost anywhere in the world within 24 hours, saving significant time and associated costs, while remaining compliant with safety regulations.
OPERATION
MCR's radial cutting torch assembly is lowered into the well until desired depth is reached. MCR's thermal generator ignites and activates the primary fuel load; highly energized plasma is produced causing an increase in internal pressure. Once the pressure produced inside the torch exceeds that of the wellbore, the protective sleeve is displaced exposing the nozzle to the wellbore. Plasma exits thru the nozzle to sever the target in drilling, completion, or production scenarios, with wellbore temperatures up to 500° (260°C) and pressures to 20,000 psi (137.9 MPa).
RCT'S ARE AVAILABLE FOR:
Standard applications
Undersized for restrictions
HP-HT environments
Cutting up to 9-5/8 in. casing
Custom tools available
Non-HazMat rated RCT's currently available:
RCT-SP
SUPPORT TOOLS
ELECTROMECHANICAL ANCHOR® (EMA)
Anchors during cutting operation – available for E-Line, 1-1/2 in. to 4 in. RCT system deployments
GENERATOR SAFETY SLEEVE® (GSS)
Safely dissipates all thermal generator energy in the event of operator activation error on surface
REMOTE FIRING MECHANISM® (RFM)
Data logging tool and firing system – safely enables all MCR cutting systems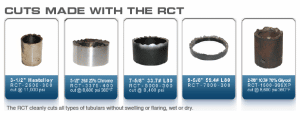 | | | | | |
| --- | --- | --- | --- | --- |
| Picture #1 | Picture #2 | Picture #3 | Picture #4 | Picture #5 |
| 3 – 1/2 in. Hastelloy | 5 1/2 in. 26# 25% Chrome | 7 5/8 in. 33.7# L80 | 9 5/8 in. 59.4# L80 | 2 7/8 in. 10.7# 70% Glycol |
| RCT – 2500 – 300 | RCT – 3375 – 400 | RCT – 5000 – 300 | RCT 7000 – 300 | RCT – 1500 -999 XP |
| cut @ 11,000 psi | cut @ 8,600 psi 360°F | cut @ 8,400 psi | | cut @ 8,600 psi 360°F |